Battery Cabinets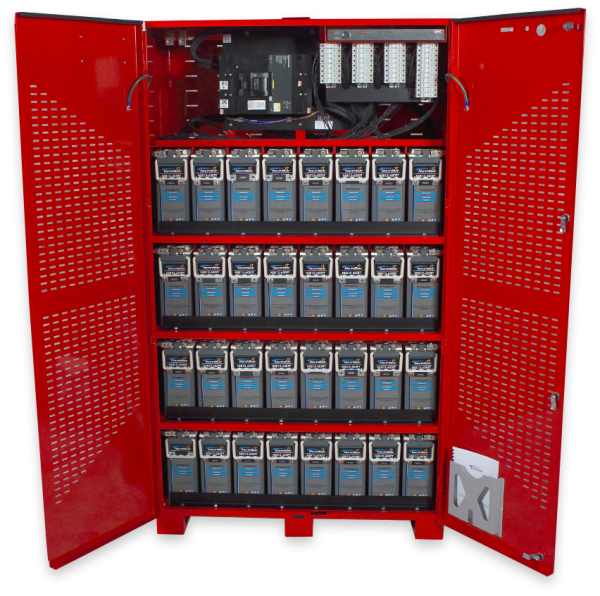 Arimon designs and manufactures custom uninterruptible power supply (UPS) backup battery cabinets, battery racks and accessories for the military and commercial OEMs serving applications including: 
Data Centers
Medical / Healthcare
Banking / Financial
Communications / Telecom
Transportation
Shipboard
Schools, Universities, Research Centers
Emergency Lighting
Energy, Utilities, Oil & Gas
Industrial Plants

Arimon uninterruptible power supply (UPS) backup battery cabinets are available for either front access batteries or top terminal (monobloc) batteries. 
All battery cabinets are constructed from heavy gauge steel with a durable welded frame and acid resistant powder coated finish available in a wide range of colors. 
Arimon UPS backup battery cabinets offer breaker or fuse protection up to 800 Amps. UPS circuit breaker options include auxiliary contacts, undervoltage release (UVR) and shunt trip circuit breakers. 
All battery cabinets ship factory assembled and fully tested. 
UL 1778
Nema 1
Quality Management System Certified to ISO 9001:2015
Battery Monitoring Options
OSHPD and Seismic Approval Options

Front Access Battery Cabinets
Arimon front access battery cabinets are designed for easy maintenance with full front access for safety. Standard sizes are available in 32 and 40 battery configurations to fit multiple battery sizes from a wide range of manufacturers including NorthStar Battery, East Penn (Deka), EnerSys and C&D Technologies, or we can customize a battery cabinet to fit your specific needs.
 
Top Terminal (Monobloc) Battery Cabinets
Arimon offers several standard monobloc or top terminal battery cabinet sizes for 10 kVA to 125 kVA UPS systems accommodating monobloc batteries from 100 WPC (64 batteries) to 540 WPC (40 batteries) or can work with you on even larger custom battery cabinet solutions if needed. All monobloc or top terminal battery cabinets accommodate single or multiple string configurations.


Accessories 
Battery Cabinet Battery Monitoring
Arimon offers full battery monitoring solutions, including all necessary hardware and cabling, to fit your specific application. Arimon battery cabinets are designed to accommodate battery monitoring solutions from a variety of manufacturers or work with our engineering team to customize a solution specifically for your needs. 


UPS Circuit Breakers
Arimon offers a wide variety of UPS circuit breakers, including auxiliary contacts, undervoltage release (UVR) and shunt trip circuit breakers, from manufacturers including ABB, Cutler Hammer, and Square D. 


Custom & Replacement Cables
Arimon cables are manufactured in house - no middle-man – equals time and cost savings for you! If you're upgrading and need replacement cables for an existing system, let Arimon serve you.
Contact Arimon to start a conversation about your backup battery cabinet or battery rack needs and how we might serve you!